Welcome to Doomadgee
The traditional homelands of The Gangalidda, Waanyi, Garrawa and Yunjulla people.
Our people have inhabited these lands for thousands of years. Many of our residents are Traditional Owners of the lands in this region. The traditional homelands of The Gangalidda and the Waanyi people lie in and around the Doomadgee Shire. There are also Garrawa and Yunjulla people and a range of people from Indigenous nations across Australia have made Doomadgee their home.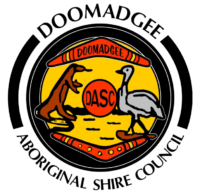 Youth & Music Hub
Internet
The Doomadgee Youth and Music Hub is a place for the young people of Doomadgee between the ages of 15 to 25 to relax and have fun with friends. Activities on offer include Table Tennis, Billiards, Arts & Crafts, Painting, TV, Movies, and there is also a fully equipped Internet space for up to 6 users.
Complete Information Guide
Message from the Mayor
- Myron Johnny
It is vital for Council to provide leadership to its community – strong leadership to create and drive a Vision for the future. Council can help our Community come together to answer questions of What is possible for our community? What are the priorities? What is going to make a difference? What do we want to achieve? Council's Corporate Plan provides a framework for the future using Council's Values and Mission to underpin the goals and strategies required to deliver on priorities for the community. The Corporate Plan is Council's shared vision for our Shire and Community. The Plan provides a clear direction to consolidate and extend the work carried out over past years. The Plan focuses on key issues of governance, economic development, environmental protection, community and human services, disaster management, waste management, infrastructure and public health. The expectation of Council is stakeholders will embrace the Corporate Plan and our shared Vision and cooperate with us to create positive and sustainable outcomes for the future of Doomadgee.
Young / Youth programmes
Business & Economy
Health & Sport
Police & Crime
Dial these numbers in case of any emergency.
FOR ANY INFORMATION
Dial 000